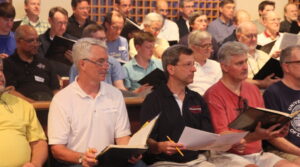 Mastersingers USA has no formal "mission." But any member would probably say that they participate for the sheer joy of singing in a top-notch men's chorus. And if there is, indeed, any mission, it is to share the energy, beauty, and joy of the group's stunning repertoire with as many people as possible. There have been wonderful singing experiences at various venues throughout the United States, but members especially enjoy introducing their music to audiences in other countries.
How did this all start? Throughout his 40+ year career, Prof. McInnes has conducted tours of his singing groups to various parts of the world. In 1995, a group of alumni decided to organize a "reunion" tour, which took place in 1996 and took 60 men to Austria, Germany, and France. With its success, MastersingersUSA was born. MUSA toured again in 2000 (to Austria, Italy, and France), and then again in 2003 to Dublin, Edinburgh, York, London – and Llangollen where they were winners in the International Musical Eisteddfod. In 2005 MUSA participated in the First International Symposium for Men's Choirs in Barcelona. And in 2007, they toured Hungary, Slovakia, and the Czech Republic. Details of these tours are in the "Past Tours" pages.
With members of all ages, a steady input of newcomers, and a solid organizational structure, MUSA looks forward to many reunions and tours in the years to come.
---
Prof McInnes passed away in April of 2021, click here to view a video of his memorial service.