Past International Tours
1996 Tour – Austria, Germany, & France
June 21 to July 7 – This first European tour of Mastersingers USA (then called University Mastersingers) began with 3 days of rehearsals in New York City, followed by a group flight to Munich.  The first part of the tour was for singers only.  Families joined us in Paris for the last 4 days of the adventure.  Pending a more lengthy description of the tour, here are the venues where we sang:
Grace Church, New York City
Universitätkirche, Graz, Austria
Benedictine Monastery, Admont, Austria
Pfarrkirche, Obdach, Austria
Pfarrkirche, St. Oswald, Austria
Mariazell Basilica, Mariazell, Austria
Karlskirche, Vienna
Franziskanerkirche, Rothenburg, Germany
Abbaye aux Hommes, Caen, France
Eglise Paroissiale, Mont St. Michel, France
Eglise Abbatiale, Mont St. Michel, France
Notre Dame de Paris
Eglise St. Eustache, Paris
2000 Tour – Austria, Italy, Monaco & France
June 22 to July 9 – Newly renamed Mastersingers USA undertook its second European tour in the summer of 2000, beginning with 3 days of rehearsals at the Plymouth Church of the Pilgrims in Brooklyn, NY.  Once again the chorus traveled as a group, men only, flying to Paris on June 25, thence to Vienna by train and bus.  Once again, families joined the men in Paris.  The many adventures in this tour make quite a story, but until that is told, here is a list of tour's performance venues:
Plymouth Church of the Pilgrims, Brooklyn, NY
Pfarrkirche, Reichenfels, Austria
Pfarrkirche, St. Oswald, Austria
Cattedrale San Giusto, Trieste, Italy
Cattedrale San Marco, Venice, Italy
Chiesa S. Maria del Giglio, Venice, Italy
Sala Gustav Mahler, Toblach, Italy
Theatre du Fort Antoine, Monaco (performance for Prince Albert)
Abbaye aus Hommes, Caen, France
Eglise Abbatiale, Mont St. Michel, France
Notre Dame de Paris
2003 Tour – Ireland & the United Kingdom
June 26 to July 13 – In the summer of 2003, Mastersingers USA undertook its third international tour. After 3 days of rehearsal in New York City, the group flew to Dublin, then to Glasgow, and then traveled by bus from Edinburgh to London. These segments of the tour featured some memorable concerts and wonderful experiences. However, the highlight of the trip was the competition at the Llangollen International Musical Eisteddfod.
2003 Llangollen International Musical Eisteddfod
The Impossible Dream:
Winning at the International Musical Eisteddfod
On July 12,  Mastersingers USA competed for the first time in the Llangollen International Musical Eisteddfod at Llangollen, Wales.
An "eisteddfod" in Welsh is simply a gathering for some kind of exchange:  cultural, political, etc.  This particular event, however, which has been held annually since 1946, has become the premier international competition for musicians and musical groups, comprised of several thousand people who compete in 30 categories.
Our director, Bruce McInnes, participated in the International Eisteddfod as a member of the Yale Glee Club in 1963 (they placed 2nd).  For the rest of us, however, this was a completely new experience.
Although there are competitions for solo vocalists and instrumentalists and for large and small mixed choirs, the premier event is the competition among male choirs, which are so popular in Wales.  We were pitted against 13 other choruses, 6 from Wales, 6 from England, and one from Germany.  (A chorus cannot compete without prequalifying.)  Of the 14 men's choruses, we were scheduled to sing in the 12th position in the nearly 5-hour competition.)
Each group was to sing 3 pieces:  (1) a required piece called "Daffodils," which could be sung in either Welsh or English, (2) a piece by a composer from the group's own country, and (3) any other piece.  The latter two pieces were limited to 9 minutes' duration.  The pieces we selected were "All That Hath Life and Breath" by Rene Claussen and "Thy Word Is a Lantern" by Fenno Heath.  As for "Daffodils," we decided to sing it in Welsh, thinking that the effort required to sing the piece in its native language would go over well with what we presumed would be a largely Welsh audience and judging cadre.
Each of us had devoted enormous effort to memorizing "Daffodils" and getting the pronunciation right.  (All our music is memorized anyway.)  One of our members carefully transcribed a recording of a Welshman reading the text and prepared a study edition for us to use in learning the words before we met for pre-tour rehearsals. Then, when we were in Dublin singing with the Dublin Welsh Male Voice Choir, we asked their director (himself a Welshman) to go over the pronunciation and correct our mistakes.  One of our members videotaped his response, and another member did a painstaking analysis of the video, re-editing our working scores with a sung transliteration of the Welsh and paying careful attention to dynamics and the handling of diphthongs (which are so complicated in Welsh).
We gave our best effort to the assembled audience (of about 1500 in a hall that accommodated 4,500) and to the panel of 5 judges.  It created quite a stir when the emcee told them that we were from all over the U.S. and 2 other countries and that we convene to rehearse only one weekend a year.  People were also surprised to hear that we would try "Daffodils" in Welsh (no other non-Welsh group did), and we must have gotten the pronunciation right because they were very enthusiastic when we finished.
We felt we had done our best – which was our primary goal – but we felt we had also done well in comparison to the other choruses, some of whom had been past winners.  But we had to wait more than an hour for the results.  These consisted of a detailed critique of each group's performance of each piece, and when these critiques were concluded, scores were given for each piece – first in Welsh and then in English, followed by a composite score.
It took a few seconds to realize that our overall score was the highest.  Then we exploded with pent-up emotion on having achieved what had seemed impossible, something we had not even dared to dream of.  And our joy and exultation were shared by the family members who had joined us for the latter part of the tour and by our new-found fans among those who had heard us sing for the first time.  When our director went to the stage in front of the cameras of BBC Television/Wales to receive the prize plaque (and later, a check for £1000), in what was the culmination of a quest he had begun 46 years earlier, we realized that we had just had the experience of a lifetime.
We weren't through, though.  We learned that our win in the male choir competition had qualified us to be in the "Choir of the World" competition that evening, to begin in just a few hours.  Practically and emotionally, we were hardly prepared for another competition, Bruce chose 3 of our best pieces — "Mary Had a Baby," "Ave Maria" (Biebl), and "Soon-Ah Will Be Done" — and we got ready to go before a larger audience (the 4,500 capacity of the venue), not to mention the cameras of BBC/Wales.
We were the third of three groups to perform, and we gave it our best despite our fatigue.  But the top prize went to the Northridge Singers of California State University, a mixed choir of college kids, who put on a brilliant performance, with elaborate choreography and percussion.  So we didn't succeed in the final competition (doing so would have meant we could never compete again), but we still left Llangollen with the feeling that we were winners and had accomplished the goals we came with — and more.
Written by Dick Frantzreb
2005 Choral Festival – Barcelona, Spain
July 16 to July 22 – The Mastersingers USA was one of six(6) men's choruses participating in the "First International Symposium for Men's Choirs" in Barcelona during July 2005. Click here for a detailed description of our experience.
Writer:  Dick Frantzreb
2007 Tour – Central Europe
June 28 to July 8 – The Mastersingers USA went on a 9-day tour of Central Europe — Hungary, Slovakia, and the Czech Republic.  Click here for a day-by-day recounting of our experience.
Writer: Dick Frantzreb
2010 Tour – Baltic States, Russia
June 25 to July 4 – The Mastersingers USA toured Lithuania, Latvia, Estonia and St. Petersburg, Russia.
Here are the highlights:
Thursday, June 24 – First Rehearsal in Vilnius, Lithuania
Saturday, June 26 – Joint Concert at St. Catherine's Church in Vilnius, Lithuania with the Azuoliukas Choir
Sunday, June 27 – High Mass at St. Ann's Church in Vilnius
Monday, June 28 – Joint Concert at Riga Dom (Cathedral) in Riga, Latvia with the Frachori Men's Choir
Tuesday, June 29 – Concert in Dikli, Latvia
Thursday, July 1 – Concert at Kaarli Church in Tallinn, Estonia
Sunday, July 4 – Concert at Lutheran Church of Saints Peter and Paul in St. Petersburg
2013 Tour – Tuscany Region, Italy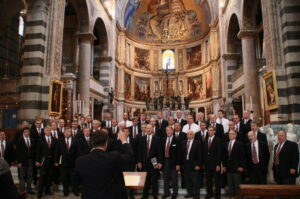 June 20 to June 28 – The Mastersingers USA traveled to the Tuscany Region of Italy performing in the following cities:
Montecatini – Concert at Terme Tettuccio
Florence – Mass followed by a concert at Santo Spirito
Assisi – Mass at Basilica San Francesco
Cortona – Concert at San Domenico
Pisa – Concert at Cathedrale
San Gimignano – Concert at Sant'Agostino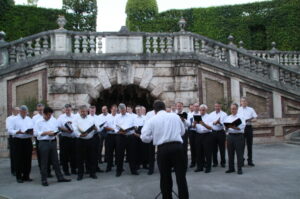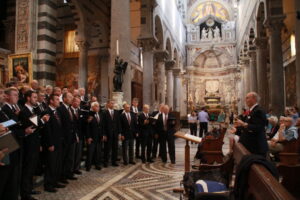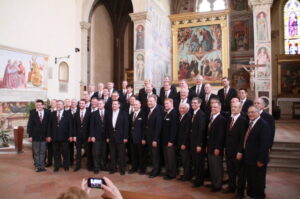 We stayed centrally in Montecatini at the Grand Hotel.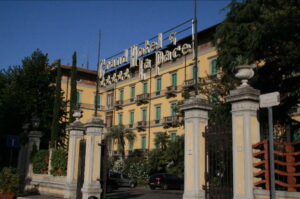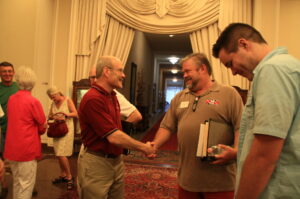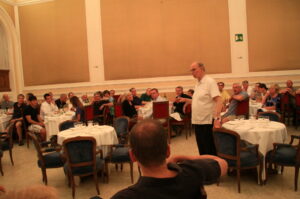 There was plenty of free time to enjoy the local sites and sample the local cuisine.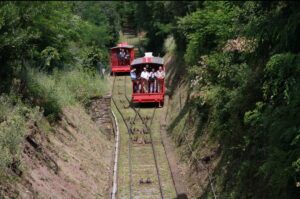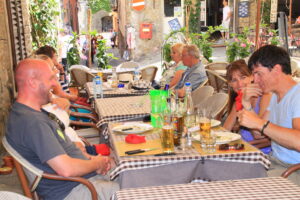 The week ended with a banquet of locally grown and prepared food complete with bottomless carafes of wine at Fattoria San Donato in San Gimignano.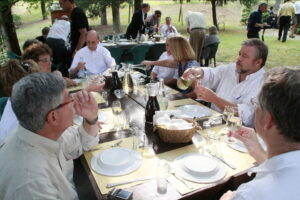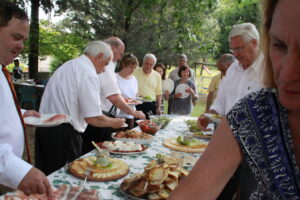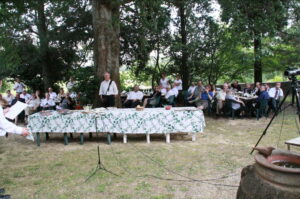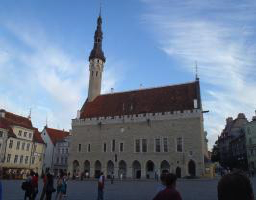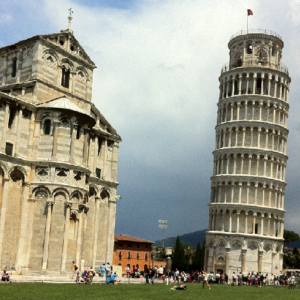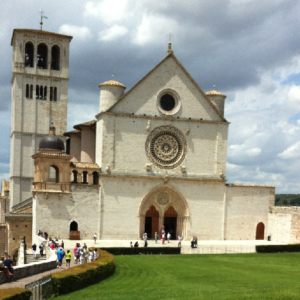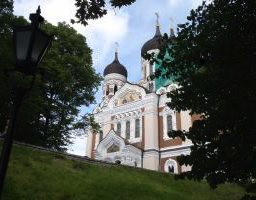 Past Reunion Concerts
2008 Choral Festival – Washington, DC
March 27 to March 30 –
Performances: (1) IMC National Seminar (Vienna) and (2) Sunday morning service at National Presbyterian Church (Washington, DC)
Host:  Jim (Murch) Mixter
Notes: This was our "Fenno Fest."  At the IMC venue, our performance was a tribute to Fenno Heath in honor of his 80th birthday, and we sang his music exclusively.  Sadly, Fenno died the following year.
2012 – Minneapolis and St. Paul, MN
June 30 to Jul 1 – The MastersingersUSA performed a concert Saturday, June 30 at 7:00 PM at St. Thomas Aquinas Chapel on the St. Paul campus of the University of St. Thomas. The address of the chapel is 2115 Summit Avenue, St. Paul, MN. Followed by providing musical assistance for the Worship in the Sanctuary at Westminster Presbyterian Church on Sunday, July 1 at 10:00 am. The Church is located at 1200 Marquette Avenue in Minneapolis (at the corner of Nicollet Mall and 12th Street).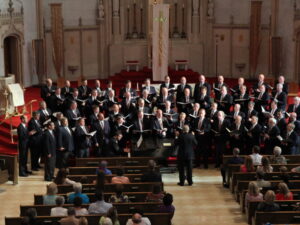 June 13 to June 14 – Mastersingers USA performed the National Anthem before the Milwaukee Brewers game against the Cincinnati Reds on June 13.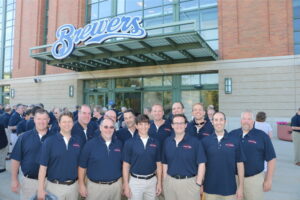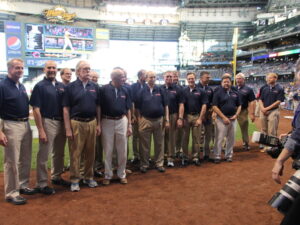 On June 14, the group provided the musical accompaniment for the 4:30 pm Mass at Church of the Gesu (1145 W. Wisconsin Avenue, Milwaukee, WI), followed by a full concert at 5:45 pm.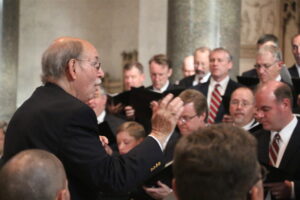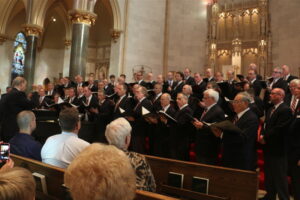 The reunion weekend included the usual afterglows and dinners.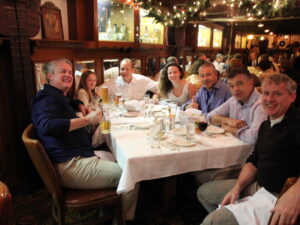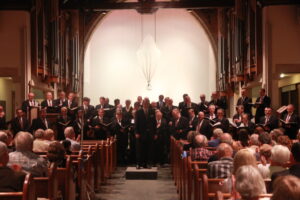 March 19 to March 22  – The Mastersingers USA gathered in Sarasota for its reunion weekend. Accommodations were at the Holiday Inn Sarasota-Lido Beach. Free time during the weekend was spent at the beach across the street, kayaking and attending spring training games in the area.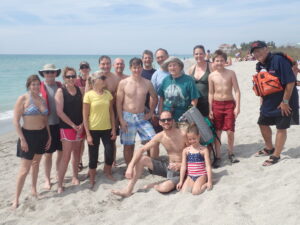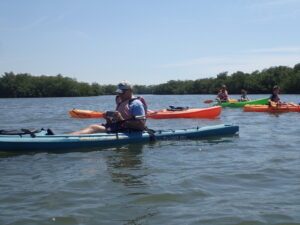 On Saturday, March 21 at 7:30 PM the Mastersingers USA performed its 20th Anniversary concert as a featured guest in the Great Music Concert Series at the Church of the Redeemer in Sarasota, FL (222 S. Palm Ave., Sarasota, FL). Following the concert, the group gathered for its annual dinner downtown.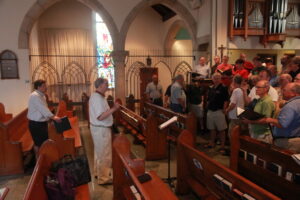 2016 – Weld and Farmington, ME
June 30 to July 3 – Weekend activities began with a rehearsal on Thursday evening in Nordica Auditorium on the campus of the University of Maine at Farmington.  Performances included a short concert in the Town Hall in Weld, Maine on Friday evening as part of their Bicentennial celebrations.  This was followed by a splendid dinner at the Kawanhee Inn.  On Saturday evening, we performed a more formal concert in Nordica Auditorium sponsored by the Arts Institute of Western Maine, an affiliate of the University of Maine at Farmington.  This was followed by a buffet supper under the tent in my yard across from the University.  And on Sunday morning we accompanied the morning Worship Service at Old South Church (UCC) in Farmington.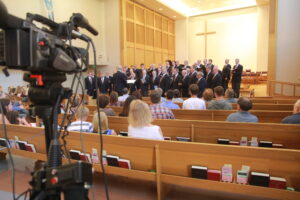 June 29 to July 2 – Weekend highlights began with usual rehearsal on Thursday night followed by the traditional welcome gathering.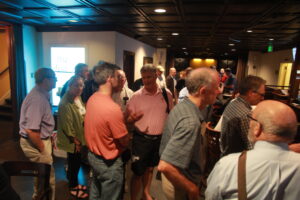 Rehearsal continued on Friday and at 3:30 PM we headed out to an Argosy Cruise to Tillicum Village on Blake Island for exploration, a terrific salmon dinner, and show.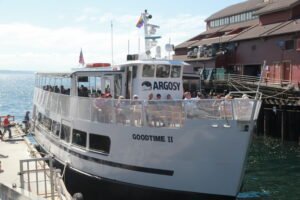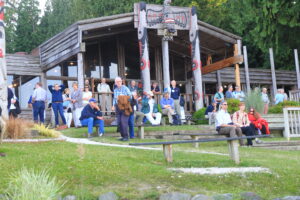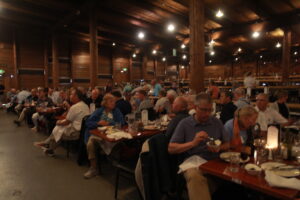 Saturday commenced with more rehearsing in the AM and an evening concert at University Congregational United Church of Christ (UCUCC) with a reception after. Sunday morning included participation in the service held at UCUCC.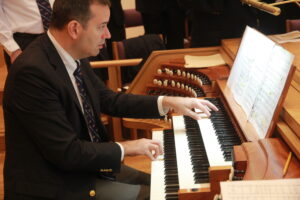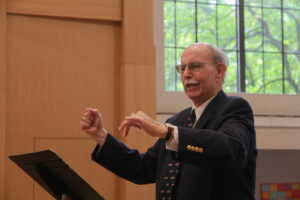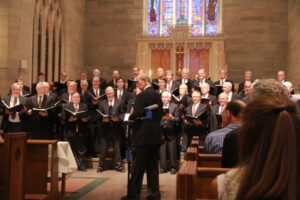 June 28 to June 30 – Weekend reunion activities were hosted on the campus of the Roxbury Latin School. Our schedule started with our usual Thursday night rehearsal followed by a welcome gathering.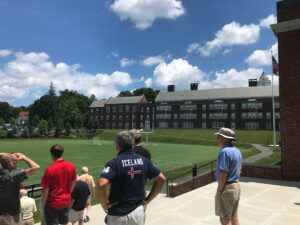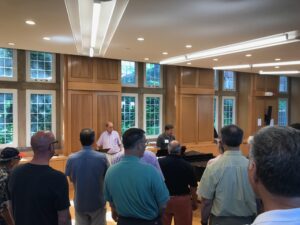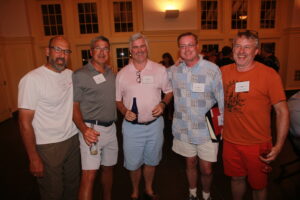 Rehearsal continued on Friday and concluded with an informal "sing" by the a cappella group Sly Voxes (with several overlap members from the Mastersingers). A dinner and swim party was hosted for us in Dover to conclude the day. More singing was provided by current and recent graduates of Roxbury Latin's student a capella group.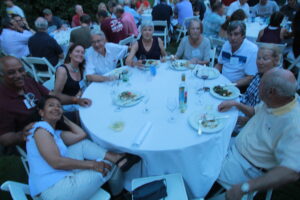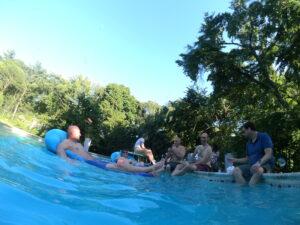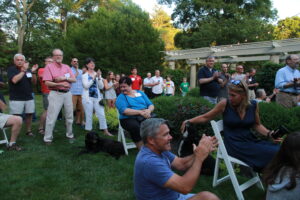 After more rehearsing on Saturday, the group provided music at Mass for St. Theresa of Avila Roman Catholic Church (2078 Centre Street, West Roxbury, MA). Our reunion concert followed the Mass. The weekend concluded with a New England Lobster Bake back on campus at Roxbury Latin.